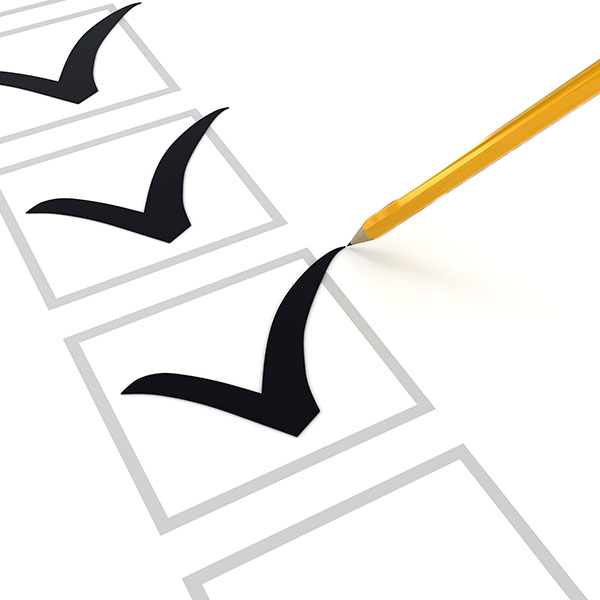 All of us at Andrew D Cooper Co Inc are dedicated to providing the highest level of service and products to meet your heating and cooling needs. Below is a sample of kind words from our customers.
At Andrew D Cooper Co Inc we strive for 100% satisfaction in everything we do. We value your opinion and invite you to tell us and others about your experience with us. Please take a few moments to tell us what you think by leaving us a review here on our website or on any of these popular review sites or social networks.
Read what other customers have said about us.

All trademarks or brands on this page are registered by their respective owner and are not affiliated with our company, nor do they endorse or sponsor our products or services.
Reviews of
Andrew D Cooper Co Inc
(Based on 19 rated reviews)
19-Apr-2018
My husband Mike and I would like to commend the technician you sent yesterday to perform routine maintenance on our heating and A/C units.
Ralph is a very polite and knowledgeable young man who obviously takes great pride in his work. He arrived on time, well-groomed, relaxed and ready to work. He took care to cover his feet and keep things clean. Ralph communicates very well and let us know what he did and he made some sensible recommendations.
Ralph has the maturity of a person many years his senior and you are lucky to have him as your representative.
Thank you for sending him our way.
18-Apr-2018
Thanks for your prompt and courteous service. We're already appreciating how quiet the new unit is.
I'm sure our neighbor's feel the same! Ralph was a pleasure to work with. He was very professional and a great listener! We look forward to continuing our long time relationship with you.
11-Apr-2018
Product or service reviewed: Repair
I contacted Cooper Heating & Air Conditioning on Monday, stating that my air was no longer cooling. (We have a contract with them) They scheduled an appt. for the next day. Ralph came early (yea!), looked at our system, found the broken part and had it replaced within one hour. Ralph was very nice to work with. He is knowledgeable and kind. I definitely recommend Cooper Heating and Air and Ralph.
30-Mar-2018
Product or service reviewed: maintenance and repairs
Ronnie from Ad cooper has been great! I've used the company service on two different occasions for repairs and maintenance. Both times they sent Ronnie for the job. I was extremely pleased. He showed up right on time and was extremely professional and courteous. He seemed honest and didn't add any unnecessary repairs like some of the other companies have told me in the past. This is the only company I would use for all my future maintenance or purchase.
13-Nov-2017
Thank you for coming out and getting the AC going during our recent heatwave in October. It was very HOT, and the AC comes in handy!
Sandy told me that the tech that came over, Ralph, was very nice and helpful. We appreciate you and your great service!
Thankful Again,
09-Nov-2017
Product or service reviewed: A/C and Heating Unit
I have been dealing with Cooper for several years now and they have always done their best to respond to my concerns. Their follow up calls are as just as professional as their initial installation of our a/c and heat plus other add-ones. Their recent trip to our home concerned a message that popped on our Infinity thermostat indicating an electrical fault. They sent Ralph out the same day I called!!! Right away he started his procedure of checking everything. He found a few minor things that he corrected but the message would not go away. He even went under the house checking wires to the outside unit. He reset the thermostat twice but no change. It was late and he said he would be back tomorrow morning. Later that night I went to check the thermostat one more time and you guessed it, everything was working normal!!! One of the little things he found and fixed must have finally got read by the controller. What a great ending for me!!! I called Cooper the next morning with the good news! Ralph was very happy that the things he did paid off! We will ALWAYS be a Cooper customer! Don't waste your time with anyone else! The Stoddard's in Lakewood
Ken and Jeri Stoddard
Lakewood, CA
11-Aug-2017
Product or service reviewed: Addition of refrigerant
Andrew D. Cooper AC was to be the 2nd estimate I was getting to replace the AC system as I was told by the first company. To my delight, Cooper tech Ron arrived (a little early) and after checking equipment told me it simply needed refrigerant. It was wonderful to find a company whose techs are honest, sincere and trustworthy. I'm staying with A D Cooper and will recommend them with confidence.
Mary Ann Pawlisz
Cerritos, CA 90703
18-Jul-2017
Since I first met the Cooper people at a home show and they installed heating and air conditioning into my 1927 home in Fullerton I have shared my positive personal experiences with them. I recommended them to a neighbor and the next week they were there. Their service contract and maintenance agreement keep my home comfortable when needed. Great people.
11-Jul-2017
Your staff replaced my entire heating/air conditioning system. Since then they have been taking care of the system maintenance. Your staff really know their stuff and have always been a pleasure to work with. Thanks for the great service.
07-Jul-2017
Product or service reviewed: Mini Split Kicking Off Breaker
Hi Cory and Tom,

Just wanted to thank you all so much for responding so quickly to the problem I was having with my system. You were very kind and never made me feel that you were angry or upset about having to fix the problem!!! Even on the phone,Tom never sounded frustrated. Cory, when you came to my house with Sergio and son( hope I got their names right) you were smiling and so courteous. You did not seem upset at all!!!

I was so grateful for that, because I have had bad experiences in the past, where people were rude and acted very unprofessional when they had to return and fix a problem. I am soooo happy and grateful that you all went above and beyond to fix the problem and the Unit is WORKING FABULOUS!!!! No more kicking off the breaker! Can't thank you all enough for what you did!! Also Sergio and his Son were so kind and professional, they worked sooo hard to make sure my problem was solved!! They deserve a raise. Please thank them for me again!!!!

Good Company, Good People, Honest with Integrity! That's why I will be a lifetime customer and tell everyone you are the Company they should look to for their needs!

Regards,
10-Jun-2017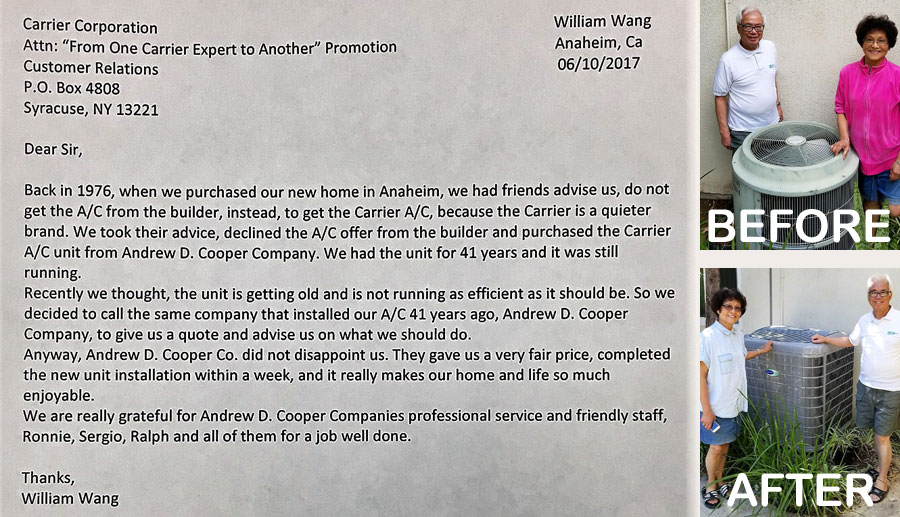 05-Jun-2017
Tom,
We are very pleased with you, your company, and your crew. I must stop by your business and get business cards to hand out. I was at a small gathering of Anaheim Chamber of Commerce ambassadors for a luncheon today and I already have one potential client for you. Would truly like to see you become a member of our chamber to give you additional exposure. Pennie C. is our business development manager. She is an honest person who has the best interest of the business person in mind. You might enjoy a conversation with her. I chose not to tell you before, but I worked for The Earl's Plumbing Inc. for 26 years until the Nellesen's sold on July 1, 2017. As a management employee, I was very involved in PHCC and other industry related organizations. I continue to do the books for the Nellesen Family Trust. I was extremely selective in our choice of contractors for our recent A/C/FAU job. My husband and I were without the use of A/C for about a year. Your low contractor's license number was a plus (the Earl's was 217657).
I did research your number on the CSLB website. I truly appreciate your honestly and integrity. Whether or not you become a Chamber of Commerce member, I will promote you to all I come in contact with. I will make sure that all of the Nellesen's know whom they can refer. One of their son's has an independent plumbing business in Anaheim. Perhaps I could introduce you and you may choose to refer one another. Kevin Nellesen does not have the classification to contract for the work that you do. His business is run on the same ethical philosophy that you operate by.
It has been a sincere pleasure to do business with you.
Sincerely,
16-Mar-2017
Ron and Ralph who came this morning to "supply and install outlet into main trunk line" both did a great job. Very good service and polite, and professional.
Outstanding. Did not disappoint!
09-Feb-2017
Andrew D. Cooper was very professional, no pressure, and at the time of giving the estimate, they answered all my questions. They were very patient and very good following up. Their installation crew was outstanding. They installed a Carrier high-efficiency air pump and handler. They did duct work as well as putting in new registers and a return. All of it was excellent. They were just very professional. I talked to a lot of different people while choosing a company for the job and I got a lot of different estimates. As a human resources professional, I could see their personality and that they had certain quality that did not disappoint.
They are very good people.
09-Feb-2017
Everything was and has been very positive with Andrew D Cooper Co. They just finished putting in a new AC unit for us. They are good at what they do.
01-Feb-2017
Product or service reviewed: Purchase and Install of Carrier Mini Split Heat/AC
I am blown away!! I am so impressed by the professionalism and the quality of the work From AD Cooper! Cory Markos was a pleasure to meet. He listened to my ideas and addressed my concerns of installing a mini split system in my bedroom. Very professional , And very kind. The two gentlemen that came out to do the job were Rafael and Danny. Could not have asked for a better team to come do my job for me. Both so kind and professional. They did such a fantastic job of enclosing all the exposed pipes and hoses from my Carrier Unit that ran from outside my room, to around the back to my side yard! They tucked everything underneath the eaves of our house and Inclosed everything! You cannot tell there is anything there!! It was beautifully done and well executed. They put a lot, and I do mean a lot of time and effort into installing my Carrier System. Truly, I can't get over the quality of the work and the extra mile I know and can see that they went to to do the job RIGHT! Never any complaints, always a smile when I asked them how everything was going. I know they put a great deal of thought and effort into making the job so wonderful and the outside of the house looking so good that you can't tell anything was done out front. I am so happy and I am going to recommend this company to anybody who needs this type of work. It is so refreshing to finally find a company and the people who work for them, that truly value giving their customers good service, and with a smile🙂 This is a wonderful family run business that takes pride in their work and making their customers happy. My advice? Don't take your business anywhere else! So thank you again Markos, Danny and Rafael!! And also the wonderful lady who was so kind on the phone and I never got her name, I'm sorry! You have all restored my faith that there are still honest good people out there!! I love my new mini split system !!!
They are a very good company!
23-Jan-2017
Andrew D Cooper Inc. is really good. I've already recommended them to two other people. Their work is excellent quality and done on time. They offered me a reasonable price to replace my furnace, they finished on time, and they were also nice to me on the phone. I was very pleased.
11-Nov-2016
Dear Tom:
Today, Mike from your company serviced our heater/air conditioning units. The units you installed in 2001. We love the units and we like Mike, he does a great job of servicing the units, covering all 15 items.
Just wanted you to know how pleased we are with the units you personally sold us and the service we get from our Andrew D. Cooper Contract. I think you are fortunate to have good people like Mike working for your company.
Sincerely,
18-Jul-2016
We're all Happy!

My mom used Andrew D. Cooper Co Inc and so have three or four of my friends. I found Andrew D Cooper Co Inc. in a home and garden show years and years ago. I'm happy with their work! I've had a good relationship with Cory Markos at Andrew D. Cooper Co Inc. and they've been in the business for a long time. They're a family-run business and know what they're doing. They're very good at what they do. I put my contractor in contact with them and now he uses Andrew D. Cooper exclusively.

We're all happy!
08-Jul-2016
To AD Cooper Heating & Air Conditioning,
I wanted to thank your company for the young man Emanuel, your technician who was sent to our home. He was polite, professional and courteous. He is an asset to your company. Often times, especially today, people would rather complain then to compliment one's personal character. Your company installed our compressor in 2001 and even then reflecting back those many years, I reflect on your company in good light. I thank God in Christ for companies like yours who are honest and have such fine people like Emanuel, who truly reflects the character of your company, it's integrity and honest dealings with the public!
Thank you again.
Sincerely,
28-Aug-2015
Thank you to all of your staff for getting my new air conditioner and furnace installed so quickly. I know that this time of year is very busy for your team.

I really appreciate the "loaner" air conditioner unit and your friendly staff.

Thanks,
Hi AD Cooper!

I just wanted to dropped this little note of appreciation. I really am enjoying my new Carrier AC unit and my place is now so awesome and cool! I also wanted to say a huge Thanks for the fantastic service that your entire Team displayed. While proving to be challenging to get the new unit in my backyard, Cory and the team of Raphael, Nick and Jason did it and the new unit was safely installed in my backyard! That's awesome team work!!!

Thanks so very much for everything. I did enjoy speaking and working with Blanch and Bert too! Nick was the 1st guy that did the evaluation. My thanks to him also.

Thanks,
Hi Tom,

Thank you for sending Mike over to Dad's yesterday to repair the air conditioning problem. I appreciate the prompt response to my Dad's call. Mike found the problem and repaired same under difficult conditions. The attic must have been well over 100 degrees. Thanks again for standing behind your work. You have a great company and great people.
I just wanted to thank A.D. Cooper company and their technicians for their continued prompt and courteous support. I do realize that the recurring problems I am experiencing appear due to equipment design issues, possibly exacerbated by the recent power distribution upgrades performed by Edison, and are largely outside of your control. I do appreciate the excellent and prompt service you have given me as we await a permanent solution. Believe me, I feel terrible each time I have had to call you back, but you have always responded in a way that exceeded expectations.

I thank you for your continued efforts! Please let me know if there is anything I can do to facilitate a resolution of the problem with Carrier.
Thanks again!
My friend, I recommended (Gary Schorr) in Palmdale was very happy with your service as was I. Just wanted to say thank you for your good work and honesty. It's good to have someone we can trust servicing our central air conditioning and heating. Feel free to have anyone contact me about your service.

Thanks,